Our Services
Our Services
Concierge Services
Everyone at Godwin Jewelers makes great concierges. In fact, you might say we offer "five star" service.
Here are some of the great things we can do to take the "heck" out of your hectic schedule:
Free jewelry delivery.
Private appointments — that's right, we are here when you need us…
Special events with extra-special offers and pricing.
Wish Lists — Let us keep track of just what she needs for every occasion (or just because).
Free gift wrapping.
Engraving
Jewelry & Watch Repair:
At Godwin Jewelers, our repair shop is equipped with the industry's leading technological advancements including the cutting edge Laser Welder and a software system called The Edge that allows you to check the status of your repairs via our web site. Our goldsmith, Jared VanCamp, has over 20 years experience at the jeweler's bench. His extensive experience, combined with his true passion for all kinds of repair and custom design, results in a truly wonderful experience each and every time you visit our repair department.
Appraisals:
We can appraise all kinds of jewelry, diamonds, gemstones, sterling flatware, watches, and much more. If you haven't had your jewelry appraised in the past 3-5 years, we recommend you have it documented in detail today.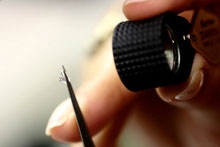 Your appraisals will include:
Testing and documentation
Gem identification
Grading analysis
A written value assessment for current retail, estate or liquidation purposes
A photograph of each piece for your insurance company
Custom Design:
Custom design usually starts with a consultation with one of our experienced associates and our Master Custom Jeweler, Jard VanCamp. The process can take between 30 minutes to an hour, depending on how well developed your ideas are. Typically, this is the time where we listen to your ideas and needs, discuss your options, draw a sketch of your design, discuss the stones and metal you would like to use, and provide you with a cost and time estimate for manufacturing your piece.
Upon completion of your design, you will then be contacted to come by and view the rendering. Once you view the rendering and approve the design, we will start production on the piece. During this step you may be called to approve the wax model or confirm the fit or size of the piece. After this time, your piece is cast, assembled and the stones are set. Your item is then high polished to a brilliant shine and you are called in to pick up your unique, exclusive masterpiece.